Seaside holidays




Filter

Sort



Strengths

On the sea

Swimming pool

Fitness

TV (extra charges)

Internet access (extra charges)

Pets (extra charges)

Parking
Description
Services
Resort
Map
The Residence "Domaine des Roches Jaunes", opposite the sea and at the foot of a magnificent fine, sandy beach, sheltered from the winds blowing off the sea, is situated in the little hamlet known as Saint Samson en Plougasnou, 6 km from the nearest shops. The apartments, from the 2-roomed apartment for 4 to the 4-roomed apartment for 8, are all fully equipped. The following are at your disposal: indoor heated swimming pool, bed linen included, fitness room, laundry (with charge)and free outdoor car park (with limited number of places).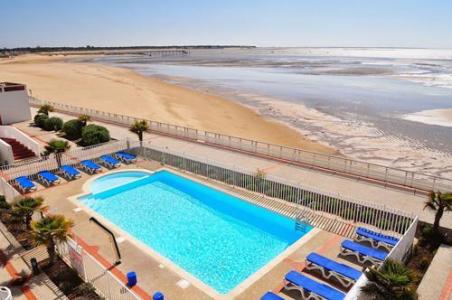 Strengths

8.2
/10

On the sea

Swimming pool

TV

Internet access (extra charges)

Pets (extra charges)
Description
Services
Resort
Map
On Atlantic Ocean in Vendee, Residence de l'Océan, superbe and colonial style establishment, thanks to its exceptional location in La Tranche Sur Mer, offers direct access to the sandy beach as well as many sports and leisure activities nearby. The residence is equipped with an private outdoor swimming pool and a large sun terrace with sea views.

Altitude
: m

7.7

/10 - 4 reviews -

Read reviews
Sporting activity
Nautic activities
Bicycle paths
Cultural activity
Circus, clowns, puppet shows
Concerts
Flea market and secondhand trade
Exhibitions
Festival
Firework...
Summary
show more options
Location / Distance
Beach
Indifferent
vider
distances_plages
0
Nearby
ajouter
distances_plages
1
0
< 50 m
ajouter
distances_plages
0-50
0
< 100 m
ajouter
distances_plages
0-100
0
< 200 m
ajouter
distances_plages
0-200
0
< 300 m
ajouter
distances_plages
0-300
0
< 400 m
ajouter
distances_plages
0-400
0
< 500 m
ajouter
distances_plages
0-500
0
< 1 km
ajouter
distances_plages
0-1000
0
< 2 km
ajouter
distances_plages
0-2000
0
< 5 km
ajouter
distances_plages
0-5000
0
Sea
Indifferent
vider
distances_mer
0
On the sea
ajouter
distances_mer
1
1
< 50 m
ajouter
distances_mer
0-50
0
< 100 m
ajouter
distances_mer
0-100
0
< 200 m
ajouter
distances_mer
0-200
0
< 300 m
ajouter
distances_mer
0-300
0
< 400 m
ajouter
distances_mer
0-400
0
< 500 m
ajouter
distances_mer
0-500
0
< 1 km
ajouter
distances_mer
0-1000
0
< 2 km
ajouter
distances_mer
0-2000
0
< 5 km
ajouter
distances_mer
0-5000
0
Harbour
Indifferent
vider
distances_ports
0
Nearby
ajouter
distances_ports
1
0
< 50 m
ajouter
distances_ports
0-50
0
< 100 m
ajouter
distances_ports
0-100
0
< 200 m
ajouter
distances_ports
0-200
0
< 300 m
ajouter
distances_ports
0-300
0
< 400 m
ajouter
distances_ports
0-400
0
< 500 m
ajouter
distances_ports
0-500
0
< 1 km
ajouter
distances_ports
0-1000
0
< 2 km
ajouter
distances_ports
0-2000
0
< 5 km
ajouter
distances_ports
0-5000
0
Nursery
Indifferent
vider
distances_garderie
0
Nearby
ajouter
distances_garderie
1
0
< 50 m
ajouter
distances_garderie
0-50
0
< 100 m
ajouter
distances_garderie
0-100
0
< 200 m
ajouter
distances_garderie
0-200
0
< 300 m
ajouter
distances_garderie
0-300
0
< 400 m
ajouter
distances_garderie
0-400
0
< 500 m
ajouter
distances_garderie
0-500
0
< 1 km
ajouter
distances_garderie
0-1000
0
< 2 km
ajouter
distances_garderie
0-2000
0
< 5 km
ajouter
distances_garderie
0-5000
0
Resort center
Indifferent
vider
distances_centre
0
Nearby
ajouter
distances_centre
1
0
< 50 m
ajouter
distances_centre
0-50
0
< 100 m
ajouter
distances_centre
0-100
0
< 200 m
ajouter
distances_centre
0-200
0
< 300 m
ajouter
distances_centre
0-300
0
< 400 m
ajouter
distances_centre
0-400
0
< 500 m
ajouter
distances_centre
0-500
0
< 1 km
ajouter
distances_centre
0-1000
0
< 2 km
ajouter
distances_centre
0-2000
0
< 5 km
ajouter
distances_centre
0-5000
0
Shops
Indifferent
vider
distances_commerces
0
Nearby
ajouter
distances_commerces
1
0
< 50 m
ajouter
distances_commerces
0-50
0
< 100 m
ajouter
distances_commerces
0-100
0
< 200 m
ajouter
distances_commerces
0-200
0
< 300 m
ajouter
distances_commerces
0-300
0
< 400 m
ajouter
distances_commerces
0-400
0
< 500 m
ajouter
distances_commerces
0-500
0
< 1 km
ajouter
distances_commerces
0-1000
0
< 2 km
ajouter
distances_commerces
0-2000
0
< 5 km
ajouter
distances_commerces
0-5000
0
Destination
Resort
Atlantic Coast
Brittany
Corsica
Mediterranean Coast
The English Channel
Accommodation
Surface
Indifferent
supprimer
surface
1
< 25 m²
ajouter
surface
0-25
0
25 - 35 m²
ajouter
surface
25-35
0
35 - 45 m²
ajouter
surface
35-45
0
45 - 55 m²
ajouter
surface
45-55
0
55 - 65 m²
ajouter
surface
55-65
0
65 - 75 m²
ajouter
surface
65-75
0
75 - 85 m²
ajouter
surface
75-85
0
85 - 100 m²
ajouter
surface
85-100
0
> 100 m²
ajouter
surface
100-0
0
Budget
Price accommodation
Indifferent
ajouter
prix_hebergement
0
1
< 200€
ajouter
prix_hebergement
200
0
< 300€
ajouter
prix_hebergement
300
0
< 400€
ajouter
prix_hebergement
400
0
< 500€
ajouter
prix_hebergement
500
0
< 750€
ajouter
prix_hebergement
750
0
< 1000€
ajouter
prix_hebergement
1000
0
< 1500€
ajouter
prix_hebergement
1500
0
< 2000€
ajouter
prix_hebergement
2000
0
< 3000€
ajouter
prix_hebergement
3000
0
< 5000€
ajouter
prix_hebergement
5000
0
Price people
Indifferent
ajouter
prix_personne
0
1
< 50€
ajouter
prix_personne
50
0
< 100€
ajouter
prix_personne
100
0
< 200€
ajouter
prix_personne
200
0
< 300€
ajouter
prix_personne
300
0
< 400€
ajouter
prix_personne
400
0
< 500€
ajouter
prix_personne
500
0
< 600€
ajouter
prix_personne
600
0
< 700€
ajouter
prix_personne
700
0
< 800€
ajouter
prix_personne
800
0
< 900€
ajouter
prix_personne
900
0
< 1000€
ajouter
prix_personne
1000
0
< 1500€
ajouter
prix_personne
1500
0
< 2000€
ajouter
prix_personne
2000
0
◄ Back

Search