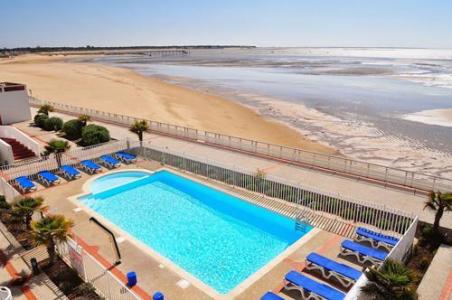 Strengths
Swimming pool

Internet access
Description
Services
Resort info
Map
On Atlantic Ocean in Vendee, Residence de l'Océan, superbe and colonial style establishment, thanks to its exceptional location in La Tranche Sur Mer, offers direct access to the sandy beach as well as many sports and leisure activities nearby. The residence is equipped with an private outdoor swimming pool and a large sun terrace with sea views.
Altitude : m


7.7

/10 - 4 reviews -

Read reviews



Sporting activity

Nautic activities
Bicycle paths

Cultural activity

Circus, clowns, puppet shows
Concerts
Flea market and secondhand trade
Exhibitions
Festival
Firework...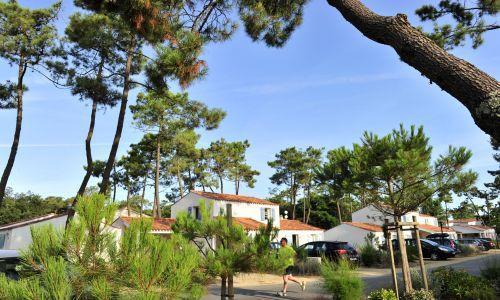 Strengths
Swimming pool

Internet access

Parking
TV

Pets
Description
Services
Resort info
Map
The residence Le Domaine des Oyats is situated 700 m away from the beach of Les Conches, at the heart of the forest. It's an ideal place for holidays with friends or family, between La Tranche sur Mer and Longeville sur Mer. The residence is composed of 72 demi detached houses.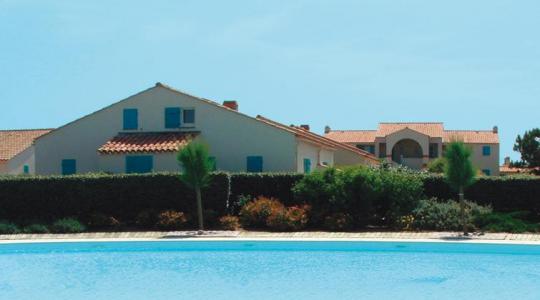 Strengths
250m from the beach

TV

Parking
Swimming pool

Pets
Description
Services
Special Deals
Resort info
Map
Located on the Côte de Lumière, Brétignolles-sur-Mer is a family resort, very lively. Its 13 km of coastline with beaches of fine sand which 6 are monitored, and rocky coves, popular with anglers. Residence "Le Domaine du Grand Large et Les Océanides" is at 250 m from the beach (no road to cross), 500 m from a body of water (not guarded), 600 m from seasonal shops and 3.5 km from the center and shops, composed of small buildings and houses.
Altitude : m

Sporting activity

Canoeing
Sand yachting
Jet Ski
Surf
Diving

Cultural activity

Strengths
50m from the beach

Internet access (extra charges)

Pets

Access for disabled people
TV

Bed linen included

Parking (extra charges)
Description
Services
Resort info
Map
In the heart of a reappointed resort, in the dynamic sports activities and in the very pleasant climate, the residence La Baie des Sables was recently renewed. It is situated in a residential district, close to the big beach (50 m) and 200 m away from the city center. The shops are 100 m away from the residence.
Description
Services
Resort info
Map
The Residence Les Jardins de l'Amirauté** is situated juste near the Marina of Les Sables d'Olonne. Beaches are at 2km from the residence. First shops are at 50m. You will stay in beautiful and well equipped apartments. You can benefit from the heated swimming pool.
Description
Services
Resort info
Map
The residence Thalassa is situated in the middle of a pine-forest, 700m from the beach and 1.5km from the centre of the town. It is made up of three 3 or 4-storey buildings, placed in a peaceful and luxuriant, green setting. The following are at your disposal: heated outdoor swimming pool, open from mid-May to mid-September, billiards (with charge), fee-paying Wi-fi hotspot, bike shed, fee-paying laundry, fee-paying covered car park and free outdoor car park. Nearest shops, casino and thalassotherapy at 500m.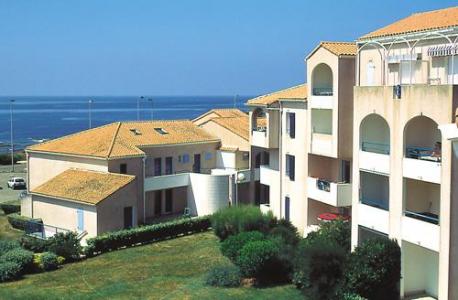 Strengths
TV

Parking
Pets
Description
Services
Special Deals
Resort info
Map
Sailing capital, with the Vendee Globe, this legendary solo race around the world nonstop and no assistance, Les Sables d'Olonne is also called "Pearl of the Coast of Light". The residence "Les Marines" is located in a quiet place at Chateau d'Olonne, facing the sea at a place called "The Well of Hell". It is situated at 600 m from the beach and 800 m from the shops and is composed of 3-4 floors.
Description
Services
Special Deals
Resort info
Map
The residence l'Estran is situated in Chateau d'olonne, face to the sea and in "Puits d'enfer" district, 1,5 km away from the Tranchet beach and 4 km away from Les Sables d'Olonne and its big beach. Shops are 200 m away from the residence and the commercial center 2 km. It is composed of apartments dispached in small houses of one floor (without lift) and a building of 2 floors (with lift). The Velodyssee bike path passes in front the residence and you can join the Salbes d'Olonne center by the seaside.
Description
Services
Special Deals
Resort info
Map
Coastal village located at 25 km from Saint-Gilles-Croix-de-Vie and 8 km from Saint-Jean-de-Monts, Notre-Dame-de-Monts is a family resort, divided between forests and swamps, bordered by a beautiful sandy beach of 4.5 km long. Residence "Le Jardin des Dunes", composed of terraced houses, is located at 800 m from the center and 1.2 km from the beach. At your disposal: unheated outdoor swimming pool open from mid-June to mid-September, weather permitting.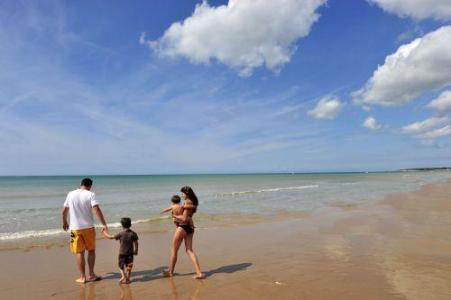 Strengths
Fitness

Internet access

Parking
Description
Services
Resort info
Map
La Grande Plage is a residence composed of houses and flats. It is situated 400 m away from the beach. You can get there on foot via a pedestrian bridge (which spans the river Jaunay) located on the portion of the beach dedicated for surfing ("Gateway"). The club "The Sailors" (sports, bouncy castle, trampolines ...) located on the beach opens from april for the season. The beach is supervised in July and August. At about 1km from the residence, you will find the bustling port and the center with its shops, bars and restaurants, markets, nightclub, casino, cinema ...