Home

Brittany

Cotes d'Armor

Trégastel
Location [resort]

x


1 People
2 people
3 people
4 people
5 people
6 people
7 people
8 people
9 people
10 people
11 people
12 people
13 people
14 people
15 people
16 people
17 people
>18 people
Trégastel


Description
Services
Resort info
Map
Opposite the sea and looking out over Saint Anne's bay, the residential complex "Les Bains" is situated 100 m from the shops and has direct access to the coastal path. The apartments, from the studio for 2 persons to the 2/3-roomed apartment for 6 persons, are all fully equipped. The following are at your disposal: fee-paying internet reception point and an outdoor car park (1 parking spot per apartment). Trégastel is a famous seaside resort 5 km from Perros Guirec and 10 km from Lannion, at the heart of the magnificent "Pink Granite" coast. It offers 17 km of rugged coastline: fine sandy beaches and creeks with pink granite formations that can be found all along the coastal path.
Altitude : m

Sporting activity

Mountain bike
Sailing
Canoeing
Horse riding
Golf
Hiking...

Cultural activity

Port
Castle
Flea market and secondhand trade
Aquarium
Mill

Other results around :
Cotes d'Armor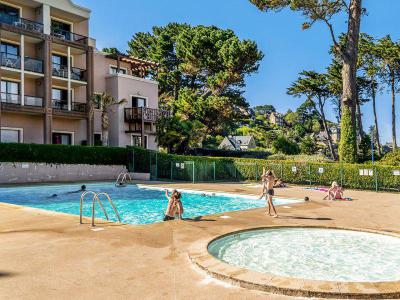 Strengths
50m from the beach

TV

Bed linen included

Parking
Swimming pool

Internet access (extra charges)

Pets

Access for disabled people
Description
Services
Resort info
Map
Located in the heart of the Côte de Granit Rose, Perros-Guirec offers its visitors an exceptionally attractive protected natural site. An unusual, breathtaking landscape in which both the land and the sea are dotted with pink granite, shaped by the wind and waves over thousands of years. Opposite the Sept-Iles archipelago and its bird sanctuary, with 2 large fine sandy beaches (including the one opposite the residence: Trestraou beach). A 3-floor residence, occupying an outstanding position opposite Trestraou beach (50 m away, with a road to be crossed), close to the casino and close to the Thermes Marins de Perros Guire thalassotherapy centre. A complete range of shops and services are available in the resort centre, approximately 1 km away.
Altitude : m

Sporting activity

Mountain bike
Surf
Oar
Sailing
Hiking

Cultural activity

Craft industry
Flea market and secondhand trade


Description
Services
Resort info
Map
The Residence Duguesclin*** is located at 10 minutes by walk from the centre of Dinan. You will stay in a comfy and well equipped apartment. You can use the outdoor heated swimming pool during your holidays.


Description
Services
Resort info
Map
The Residence Les 7 Iles*** is situated at 200m from the beach of Trestraou, at Perros-Guirec. You will benefit of the covered heated swimming pool, the fitness area, and oh the sauna (with extra). The Casino, and the Thalassotherapy center are close to the residence. Apartments are well equipped and comfortable. You will have a nice stay at the Residence Les 7 Iles***!
Altitude : m

Sporting activity

Mountain bike
Surf
Oar
Sailing
Hiking

Cultural activity

Craft industry
Flea market and secondhand trade
Summary
show more options
Destination
Department
64 - Pyrénées Atlantiques
Resort
Costa Brava
Costa Del Sol
Costa Dorada
Atlantic Coast
Gujan Mestras - Bassin d'Arcachon
Saint Gilles Croix de Vie
Brittany
Frehel-Sables-d'Or-les-Pins
Corsica
Ste Lucie de Porto Vecchio
Mediterranean Coast
Le Grau du Roi-Port Camargue
Canary Islands
The English Channel
Accommodation
N° People
1
2
3
4
5
6
7
8
9
10
11
12
13
14
15
16
17
>18
Services
Services
Access for disabled people
Budget
School holidays
United Kingdom / New Year
United Kingdom / February