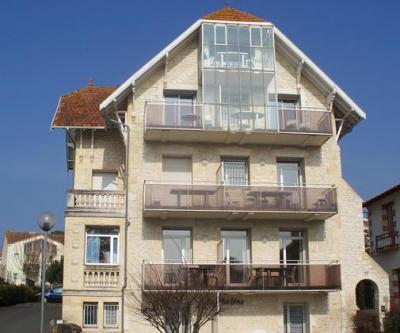 Strengths
30m from the beach

Pets (extra charges)
TV (extra charges)

Parking
Description
Services
Resort info
Map
Saint-Palais-sur-Mer is a quality resort whose development is strongly oriented towards improving the quality of life for all. The resort is just at 6 km from Royan. Residence Le Phanlène is quietly located at 30 m from the central beach (street to across), shops and the center. It consists of two small buildings of 2 and 3 floors (no lift) and a nice house overlooking the beach. An ideal place for family holidays!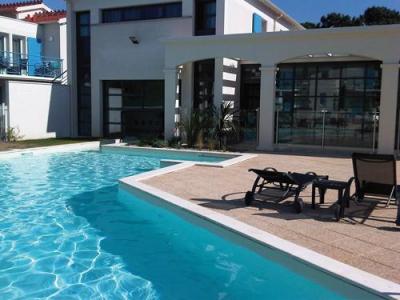 Strengths
150m from seaside

Sauna (extra charges)

Internet access

Parking
Swimming pool

TV

Pets (extra charges)
Description
Services
Resort info
Map
The charm and character of Saint-Palais-sur-Mer are quickly perceived by those who stay and who fail to return. The residence Les Carrelets is located at 150 meters from the seafront, 700 m from Platin beach, 100 m from the 1st shops, 1.8 km from the city center. This new residence of 71 apartments over 7 buildings of a floor has an outdoor and heated swimming pool and a paddling pool, with also a spa tub, open from mid-June to mid-September, weather permitting. You will also find a playground for children.

Other results around :
Charente Maritime

Strengths
Description
Services
Resort info
Map
The residence Le Palais Des Gouverneurs provides luxury self-catering accommodation and is located just 250 m from the harbour and its bustling quays and the shops. This residence comprises 3 buildings, one being (the former Governors Palace) and 2 additional buildings in keeping with Ile de Ré architecture). The 3 buildings are surrounded by a secluded park and facilities at this residence include a heated, semi-indoor swimming pool and sauna. The Cible Beach in Saint-Martin is located just 1 km away.
Description
Services
Resort info
Map
The new outdoor residential complex of Monplaisir is just 1,5 km from the small beach, 4,5 km from the large beach and 700 m from the centre of Saint Trojan les Bains, in a wooded park, belonging to the ONF (forestry commission) heritage. Each mobile-home is equipped with a kitchenette (with microwave), shower, separate toilet and a small terrace with garden furniture. At your disposal are the following: outdoor, heated swimming pool, open from mid-May to the end of September, petanque area, sports' ground, bar open in July and August and fee-paying internet reception point.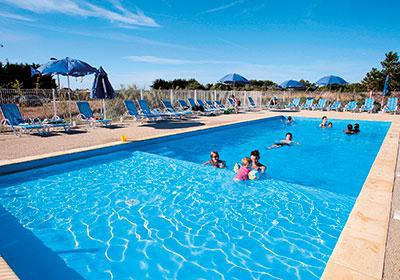 Strengths
Swimming pool

Bed linen included

Parking
Description
Services
Resort info
Map
From 3 km to the city center of Sain tpierre d'Oleron, the residence Terre marine is located 800 m from the beach. Apartaments are built in fully equiped cottages. In summer, you can enjoy the outdoor heated swimming pool opened until the end of september.

Strengths
300m from the beach

TV (extra charges)

Bed linen included
Description
Services
Resort info
Map
The Residence "Le Village des Amareyeurs", at the south-west of the island, at Château d'Oléron, is situated 300m from the sea and 400m from the nearest shops. It is made up of small semi-detached houses, resembling the traditional fishermen's cottages of the region. The following are at your disposal: non-heated outdoor swimming pool, open from mid-May to the end of September.

Strengths
250m from the beach

TV

Pets (extra charges)
Description
Services
Resort info
Map
300 m from the port of departure, on the Pointe Sainte-Catherine, the Fort de la Rade is a renovated historical building, inside a fortified walled area. Comprising a one-storey building and garden-level maisonettes, teenagers have the chance to reserve a camp site space from the residence. There is a heated outdoor pool (open April - September from 10 am to 7 pm), designed by a French landscape architect. A children's play area is available for small children, a ping-pong and pool table for older ones!
Description
Services
Resort info
Map
The Residence Le Domaine du Chateau*** is situated in the village of Lagord. You will be at 3.5km from the historical centre of La Rochelle. You will stay in a well equipped and air-conditioned apartement, with terrace of balcony. You can take advantage from the swimming pool and the wellness area.